Prepare to fall for the hottest makeup trend of the season as the leaves change and the mercury drops – it's all about cherry makeup! I've spotted it everywhere, from Instagram to TikTok, even on the runways of fashion giants like Christian Siriano, Dolce & Gabbana, and Gucci during the fall-winter 2023 shows.
Red is the undisputed star color this season, and I'm here to guide you through embracing this captivating trend. Are you ready to spice up your look with rich, alluring shades of cherry?
Cherry Makeup
Cherry makeup is all about embracing the bold, vibrant hues of red, ranging from juicy red lips to monochromatic red eyeshadow looks. While it may seem a bit daring at first, believe me when I say that all it takes is some confidence and the right products to rock this trend effortlessly.
Plus, it's the perfect way to bring some warmth and excitement to the colder days ahead. Aside from cherry makeup, other variations such as cherry blossom-inspired looks are also gaining traction.
These looks typically incorporate soft pinks and pastel shades, but don't let that stop you from getting creative and combining the two trends. After all, makeup is all about personal expression and fun!
Understanding Cherry Makeup
Cherry makeup embraces all shades of red, from crimson to poppy to cherry itself, resulting in bold and dramatic looks. This fresh trend replaces the minimalist "no makeup" makeup look with something slightly more daring but incredibly beautiful.
This vibrant look gained popularity on platforms like Instagram and TikTok, and it's not hard to see why. Drawing inspiration from the juicy fruit and warm fall colors, cherry makeup is versatile and suitable for various occasions.
Moreover, it has been spotted on the catwalks of notable fall-winter 2023 fashion shows by designers like Christian Siriano, Dolce & Gabbana, and Gucci.
Now you might be wondering how to incorporate cherry makeup into your routine. Start with a bold red lip, followed by a monochromatic red eyeshadow to create a stunning, eye-catching effect. And don't forget the cherry on top – add a touch of blush on your cheeks to complete the look.
Different Types of Cherry Makeup
Firstly, let's talk about the cherry eyeshadow. This can range from a soft, subtle pink to a bold red. You can choose to go monochromatic or combine it with neutral shades to create a beautiful and eye-catching look. The Cherry Blossom Makeup Looks article by L'Oréal Paris has some amazing inspiration for this.
Another great option is cherry lipstick. A vibrant red lip never goes out of style, and it can make any simple makeup look instantly chic. Don't be afraid to rock it with confidence!
My Advice: To make your lipstick last longer, try using a lip liner and filling in your lips before applying the cherry lipstick.
If you're looking for something more subtle, try a cherry blush. A soft, rosy hue on the cheeks can add just the right amount of color, especially for everyday wear. Make sure to start with a light hand and build up the intensity gradually.
For an extra touch of fun, you can also add some cherry-colored nail polish to your look. From deep, glossy burgundies to bright reds, the options are endless and really bring your cherry makeup together.
Cherry eyeshadow
Cherry lipstick
Cherry blush
Cherry-colored nail polish
Choosing the Right Cherry Makeup
First, you can't go wrong with a classic dark red lip. This vampy shade is elegant and instantly elevates any outfit.
Pro Tip: To make your lips appear fuller, overdraw your lipstick slightly and buff it out for a soft, smudged effect.
If you're into eyeshadows, I suggest trying the creamy Rare Beauty eyeshadow in the shade "Compassion," a deep red color that's easy to apply and blend. For a more sophisticated look, reach for Rabanne Makeup's intense matte pigment eyeshadow in a convenient paint tube format.
Cherry makeup isn't just limited to lips and eyes. Embrace the trend with some cherry-colored makeup products like blushes and highlighters, giving your cheeks a rosy glow that complements the rest of your look.
Finally, let's talk about the importance of balance when embracing cherry makeup. The key is to avoid going overboard. If you decide to rock a bold cherry eyeshadow, keep the rest of your makeup relatively subtle, letting your eyes take center stage.
How to Apply Cherry Makeup
Let me show you how to create this stunning look that is suitable for all skin tones. With the right products and a step-by-step guide, you'll have that gorgeous cherry makeup in no time!
Products needed
Here are some essentials you will need:
Step-by-Step Guide
Prep your skin: Apply your favorite moisturizer and primer to create a smooth base for your makeup.
Eyeshadow: Apply the cherry eyeshadow on your eyelids, blending it towards the outer corner of your eyes, and slightly into the crease.
Eyeliner: Line your upper and lower lash lines with dark brown or burgundy eyeliner. You can smudge the eyeliner for a softer look.
Mascara: Apply a few coats of your favorite black mascara to enhance your lashes.
Blush: Smile and apply the cherry blush to the apples of your cheeks, blending upward towards your temples.
Lipstick: Apply the Cherry Vice Lipstick and lightly smudge the edges with your fingers or a brush for a naturally diffused look.
Skin Compatibility with Cherry Makeup
Firstly, cherry makeup allows for various shades in lipsticks and eyeshadows, catering to different undertones in the skin. From rosy pinks to deep cherry reds, there is a hue suitable for everyone.
The key is to experiment and find the shades that flatter your skin tone the most. Don't be afraid to play with different cherry-colored makeup products.
When it comes to skincare, cherry blossoms also provide some benefits. Enriched in antioxidants, cherry blossoms can help protect the skin from environmental stressors and promote a youthful glow.
For example, the Snow Fox Japanese Cherry Blossom Soothing Mask is praised for its cherry blossom extract that nourishes the skin while providing a glass skin effect.
Popular Cherry Makeup Brands
One of the best cherry makeup ColourPop Cherry Crush Eyeshadow Palette has caught my eye. This palette features nine highly pigmented, cherry-inspired shades that are extremely blendable. Just imagine all the stunning looks you can create with these shimmering pink metallics and rich red mattes!
Pro Tip: to create an ethereal, soft-focus effect, apply the colors lightly and blend well.
Another exciting option inspired by cherry blossoms that I've found is the L'Oréal Paris Smudged Pink Lip. If you prefer to keep it a little more natural, adding a pink lip to your usual look is the perfect choice. Just overdraw your lipstick slightly and buff it out to draw more emphasis to your lips.
If you're feeling adventurous and ready to embrace the cherry trend even more, you can check out TikTok's viral cherry mocha nails or some other red-hued makeup looks. Trust me, with cherry makeup, you'll be turning heads and making a bold statement wherever you go!
Maintaining Cherry Makeup
First, it's important to start with a clean and well-moisturized face. If you have oily skin, you can use an oil-free primer to create a smooth base for your makeup application. This will help your cherry makeup stay in place and look flawless throughout the day.
Now, when it comes to applying your cherry makeup, choosing the right products is essential. Look for high-quality, long-lasting products like cherry makeup trend to ensure that your look stays vibrant for hours.
For the eyes, opt for a waterproof or smudge-proof cherry eyeshadow and apply it with a blending brush for an even finish. You might also want to use an eyeshadow primer to increase the staying power.
For lips, a lip liner can be a game-changer in maintaining a cherry lip color. Outline your lips and fill them in slightly to create a base for your lipstick. This will help your color last longer while also giving your lips more definition.
Lastly, I always recommend setting your cherry makeup with a setting spray or translucent powder. This will help to lock in your makeup and prevent smudging or fading. Additionally, remember to pack your lipstick and a compact powder in your purse for touch-ups throughout the day, just in case.
Future Trends in Cherry Makeup
Bold Color Combinations: Cherry makeup pairs well with other deep, rich shades. I believe makeup artists and enthusiasts will experiment with daring color combinations, like contrasting cherry red with deep blues, purples, or greens. Additionally, we could also see cherry makeup being layered with metallic shimmer or glitter for a more glamorous look.
Inspired Nail Trends: Cherry mocha nails are already on the rise, adding a touch of sophistication with their deep burgundy hue. I foresee this nail color trend extending into the realm of nail art, with intricate designs like cherry blossoms or abstract patterns in the same palette, for a perfect match with our cherry makeup.
Texture Play: Combining the bright reds of cherry makeup with different textures can result in extraordinary looks. For instance, experimenting with matte, gloss, and satin finishes gives us a versatile style suitable for various occasions—from casual meetups to formal events.
Seasonal Transitions: Although cherry makeup is considered a quintessential autumn and winter look, I believe its adaptability will grant it a place in year-round makeup rotations. Lightened versions and more subtle applications, such as cherry-stained lips or flushed cheeks, could introduce this trend to the warmer months.
Cherry Makeup: The Essentials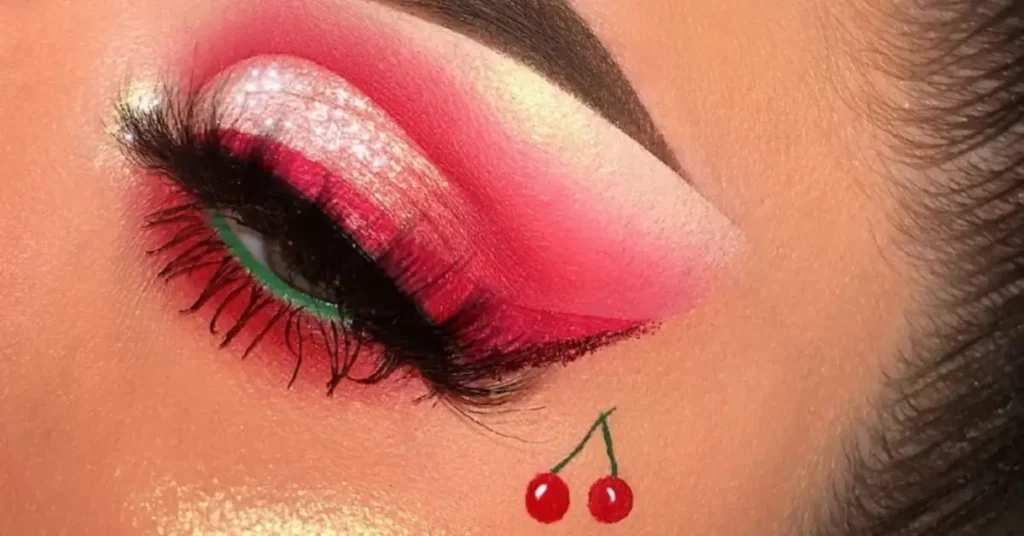 First things first, let's talk about the basic products you will need to create that lovely cherry-inspired makeup look. Here are the items I think are essential:
Lipstick: A smudged pink lip adds a natural and romantic touch, drawing emphasis to your lips and embodying the cherry blossom theme.
Blush: Pick a cherry or pink-toned blush to give your cheeks a fresh and flushed appearance.
Eyeshadow: Incorporate cherry hues for both subtle and bold eye looks. Opt for mauve or berry shades to make your eyes pop.
Concealer: A color-correcting concealer kit is a must to cover any skin imperfections and create a flawless base.
Mascara: To enhance your eye makeup, don't forget a volumizing and lengthening mascara for a bold, defined look.
Incorporating these products into your makeup routine will ultimately help you achieve that cherry-inspired aesthetic. Remember, the key is to experiment with different shades and techniques until you find the perfect combination that suits you best.
FAQ
What is Cherry Makeup?
Cherry Makeup is a makeup style that incorporates shades of red, pink, and deep burgundy to create a luscious, cherry-inspired look. It often focuses on the eyes, lips, and cheeks.
Is Cherry Makeup suitable for all skin tones?
Yes, Cherry Makeup can be adapted to suit various skin tones. Select shades that harmonize with your complexion to create a flattering look.
What occasions are ideal for Cherry Makeup?
Cherry Makeup is versatile and can be worn for various occasions. It's perfect for adding a bold touch to evening events, date nights, or whenever you want a captivating, statement look.
Can I find cruelty-free and vegan Cherry Makeup products?
Yes, many cruelty-free and vegan makeup brands offer products to achieve Cherry Makeup. Check the product labels or the brand's certifications to choose accordingly.
Can I wear Cherry Makeup with glasses?
Yes, Cherry Makeup can be worn with glasses. Consider using bold lip colors and well-defined eyes to balance the frames and enhance your overall look.
---
If you liked this blog article about the topic: Cherry Makeup, don't forget to leave us a comment down below to tell us about your experience.