Are you tired of the same old makeup routine? Yearning for a fresh, captivating look that turns heads and makes your social media photos pop? Look no further! Enter the world of Douyin Makeup, a mesmerizing trend from China that's setting beauty standards ablaze worldwide.
Imagine effortlessly radiant skin, eyes that shimmer like starlight, and lips with a dreamy, blurred finish. The allure of Douyin Makeup is irresistible, and I'm here to be your guide on this enchanting journey.
No more mundane makeup routines or settling for ordinary looks. With Douyin Makeup, you'll unlock the secrets to a captivating style that'll leave you feeling confident, inspired, and ready to conquer the beauty world. Join me as we delve into this ethereal trend, and get ready to transform your beauty game like never before!
Douyin Makeup
What sets Douyin Makeup apart from other styles is its delicate glitter placement, flushed cheeks, and clustered lashes. These details work together to create a soft, dreamy appearance often seen in Chinese celebrities, content creators, and makeup enthusiasts. The name "Douyin" actually comes from the popular Chinese short-form video app, a counterpart to TikTok, where the trend initially gained traction.
Before diving into this lovely makeup style, let me assure you that it's totally achievable for everyday wear. In the next sections, I'll guide you through some of the key elements and techniques that will help you create your own magical Douyin Makeup look, so you can feel as radiant as a fairy-tale character right in your own home.
History of Douyin Makeup Trend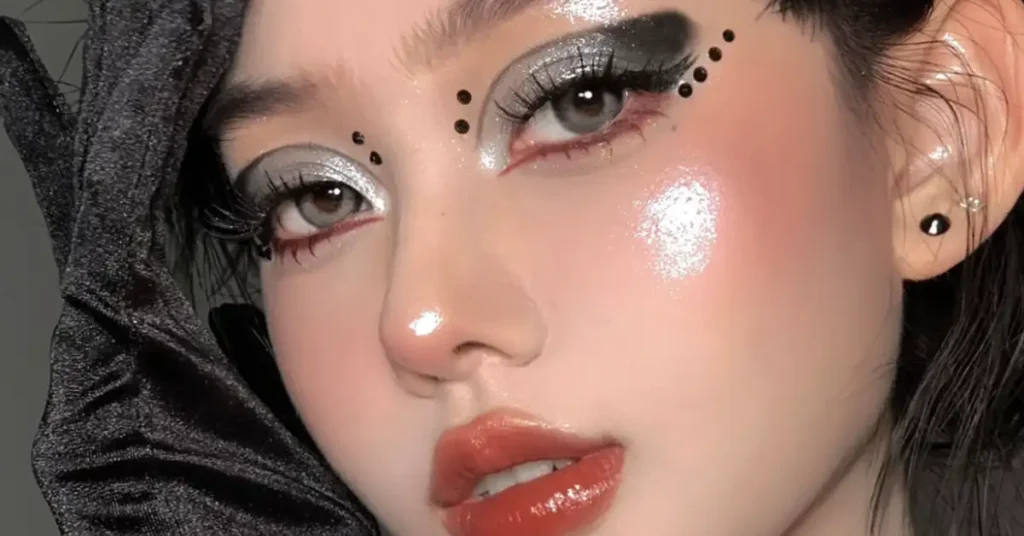 It's fascinating how makeup trends come and go, and just a few years ago, hardly anyone had heard of Douyin Makeup. As a man who's never tried this particular makeup trend, I must say I'm intrigued by its sudden popularity and how it has captured the attention of beauty enthusiasts across the globe.
The Douyin Makeup trend originated on the Chinese social media app Douyin, also known as TikTok outside of China. Its rise to fame has been nothing short of impressive. Chinese makeup influencers first popularized this style of makeup, and it has since become synonymous with soft, ethereal looks that give the wearer a doll-like appearance.
Unlike Korean beauty, which has been around for ages, Douyin Makeup is a relatively new trend. At its core, it focuses on highlighting the unique features of individuals regardless of their ethnicity. Many beauty aficionados, even those from diverse ethnic backgrounds, have embraced and adapted the trend to suit their own skin tones and facial features.
There are a few key aspects that define Douyin Makeup, such as:
Flawless, glowing skin
Delicate blush placement
Soft, feathery eyebrows
Dramatic eye makeup with exaggerated eyeliner
I cannot stress enough how critical blending is to achieve the desired effect. As a pro tip, always invest in good quality blending brushes and take your time to create seamless transitions between colors.
I've encountered many people who have tried Douyin Makeup themselves and are now huge fans of the trend. They rave about its ability to accentuate their facial features in a way that's both unique and natural-looking.
So, while I may not be dabbing on the Douyin Makeup myself, there's no denying that this trend has left a lasting impression on the world of beauty. Its fascinating journey from a social media app to becoming one of China's biggest cultural exports is a testament to its charm and potential to evolve even further. We can only wait and see how Douyin Makeup will continue to leave its mark on beauty industries worldwide.
Popular Douyin Makeup Styles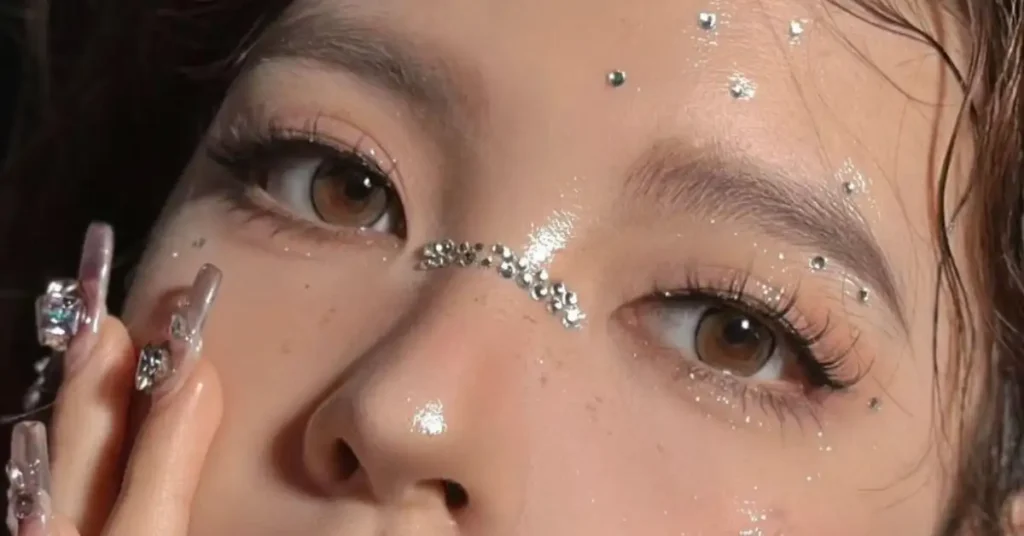 As a makeup enthusiast, I've been quite intrigued by Douyin Makeup. This trendy makeup style, originating in China, has quickly gained popularity worldwide with its unique, bold, and edgy looks. In this section, I'll share with you some of the most popular Douyin Makeup styles and my personal opinions on them.
Glitter and Bold Colors
One of the most eye-catching styles in Douyin Makeup is the use of glitter and bold colors. With this look, shimmery eyeshadows in bright shades, such as gold, silver, or even blue and pink, are applied to create stunning, statement-making lids.
Pigmented blushes in pink or peach hues are then applied, often accompanied by dramatic, manhwa-inspired eyelashes for a doe-eyed effect. I personally love this style because it adds a touch of individuality and playfulness to my makeup routine.
Pro Tip: For a more daring look, try experimenting with colorful eyeliners or multi-chromatic eyeshadows.
Smoky Eyes and Nude Lips
This next style is perfect if you're a fan of sultry, smoky eyes and understated lips. Douyin Makeup allows you to achieve smoky eyes by blending dark eyeshadows with lighter, metallic shades to add depth and dimension.
Finish the look with nude or light pink lips for a sophisticated, yet edgy appearance. I find this style to be incredibly versatile, and suitable for both daytime and nighttime events.
Natural Makeup Look
Finally, this last technique combines elements of Korean beauty trends with Douyin Makeup to create a fresh-faced, natural look. By focusing on glass-like, dewy skin and applying minimal yet well-placed makeup, this style creates a subtle, radiant glow.
I personally appreciate this technique for days when I want a low-maintenance makeup routine that still looks polished. To achieve this look, use a light hand when applying eyeshadow and blush, and opt for a soft, blurred lip effect.
Whether you're going for a bold, eye-catching style or a softer, natural look, Douyin Makeup has something for everyone. Give these popular styles a try, and feel free to put your own personal twist on them. Happy experimenting!
Douyin Makeup Tutorials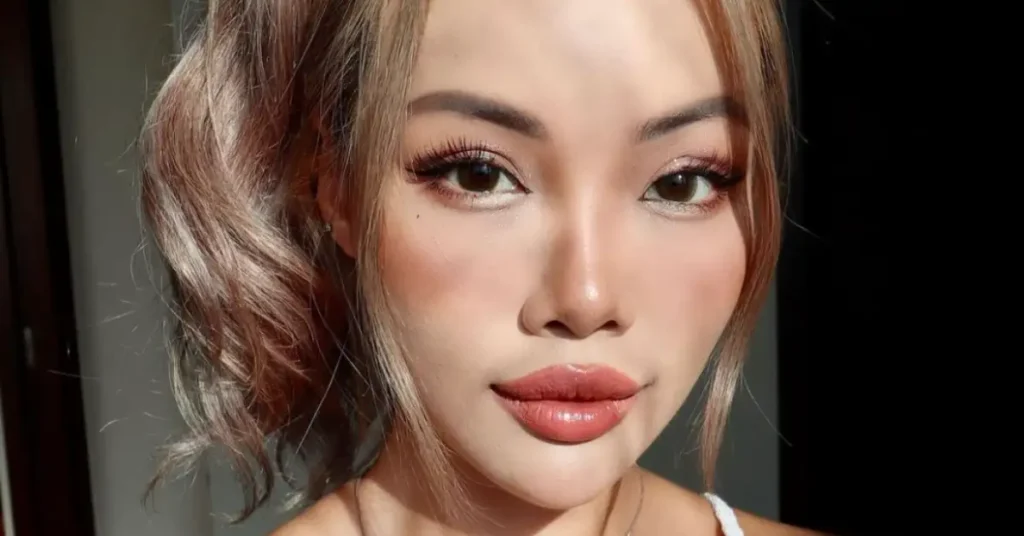 As a makeup enthusiast, I recently came across the mesmerizing world of Douyin Makeup, and just like me, you'll fall in love with it. Combining dreamy, ethereal aesthetics with doll-like features, this makeup style originated from the popular Chinese social media app Douyin.
So, buckle up because today I am going to share some must-try tutorials in three categories: Celebrity Inspired, Festival, and Everyday Makeup.
Celebrity Inspired Tutorials
Some of our favorite celebrities have been sporting Douyin makeup looks, and it's time for you to do the same. Personally, I adore the K-Douyin Glam tutorial for its unique spin on Korean fashion. These tutorials usually feature:
Dreamy, shimmering eyeshadow
Bold, pigmented blush
Soft, blurred lip color
Give it a go and feel like a superstar for a day.
Festival Makeup Tutorials
Festival season calls for some vibrant Douyin makeup. Get inspired by the makeup artistry from lively, colorful festivals. Here are my top choices for festival makeup tutorials:
Glittery, multi-colored eyeshadow
Playful, elaborate eyeliner designs
Face jewels and artistic elements
My pro tip for festival makeup: Opt for waterproof products to ensure your beautiful look stays intact all day and night.
Everyday Makeup Tutorials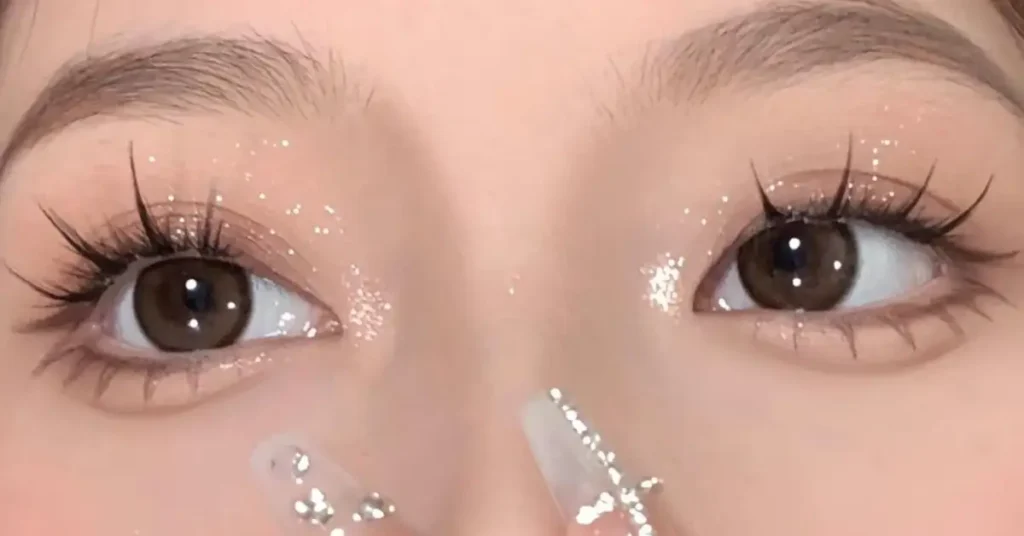 Douyin makeup isn't just for special occasions. If you're like me, you will want to incorporate this charming style into your everyday routine. I've tried the Korean Douyin Makeup Tutorial, and trust me, it's worth the effort. Here's what you'll find in most everyday tutorials:
Soft, pastel eyeshadow colors
A natural flush of blush
Subtle, ombre lips
Embrace your inner doll-like beauty and elevate your daily look with Douyin makeup. Remember to have fun and add your personal touch to these tutorials. After all, it's all about expressing yourself through art!
Influential Douyin Makeup Artists
Douyin makeup is a makeup trend that has taken over social media and become quite popular, especially on TikTok. As someone who loves to explore new makeup styles, discovering artists who excel in this trend is exciting. Here, I will share some of the most influential Douyin makeup artists I've encountered.
In my quest to find amazing Douyin makeup looks, Taylour Chanel is one of the artists who caught my attention. Her work showcases that lovely softness that contrasts with other makeup styles, and the delightful blush placement makes the entire look just so endearing.
Another makeup artist I find fascinating is Vivian Hoang. Vivian's doll-like approach to Douyin makeup is mesmerizing, and I cannot help but be drawn to her beautiful creations. When the charming shimmer on her looks catches the light, it's simply breathtaking.
While browsing TikTok, I also stumbled upon the accounts of @keyiuiu and @grannyfawn. Both Asian and Asian diaspora creators actively contribute to the growth of the Douyin makeup trend, adapting their techniques to showcase their unique features and skin tones.
Here are a few tips I learned from these amazing makeup artists:
Focus on soft, blended eyeshadow
Apply blush on the tip of the nose
Use a hint of shimmer for that touch of sparkle
Highlight to accentuate the natural features
These remarkable makeup artists are just a few among many talented creators who continue to inspire the Douyin makeup community. With their incredible techniques and captivating looks, they truly bring this remarkable trend to life and make it more accessible for people like you and me.
Pros and Cons of Douyin Makeup
As someone who loves exploring different makeup trends, I recently came across Douyin Makeup and decided to give it a try! In case you're unfamiliar, Douyin Makeup is a popular Chinese-style beauty trend that has gone viral on social media platforms like TikTok and Douyin.
The look is typically characterized by dreamy, ethereal, and doll-like features. Now that I've had a chance to experiment with it, I'd like to share my thoughts on the pros and cons.
Pros:
Versatility: Douyin Makeup offers an endless range of possibilities, from a simple wash of pink eyeshadow to a more dramatic shimmer effect. You can easily adapt this trend to your personal style and mood.
Youthful Appearance: This makeup style creates a fresh, radiant, and youthful look that many people are drawn to.
Creative Outlet: Douyin Makeup encourages you to explore unique eyeshadow combinations, which is a fun way to express yourself creatively.
Cons:
Time-consuming: The Douyin Makeup look requires a bit more time and effort compared to a more minimalistic makeup style. Creating the perfect ethereal glow and blending eyeshadows might take a while.
Not Suitable for All Occasions: Since Douyin Makeup emphasizes a whimsical, doll-like appearance, it might not be an appropriate choice for certain professional settings.
Can be Overwhelming: For makeup beginners, the Douyin Makeup trend could be overwhelming, given the variety of eyeshadow colors and techniques involved.
| Pro ✅ | Con ❌ |
| --- | --- |
| Versatile | Time-consuming |
| Youthful | Not suitable for all |
| Creative | Overwhelming for beginners |
In my experience, the key to mastering Douyin Makeup is to start small and build from there. Here's a pro tip: invest in quality liquid glitter eyeshadows like Stila's Glitter and Glow for that extra pop of sparkle! Overall, Douyin Makeup is a fun and unique makeup trend worth experimenting with, but be aware of the potential drawbacks before diving in headfirst. Happy blending!
Tips for Perfecting Douyin Makeup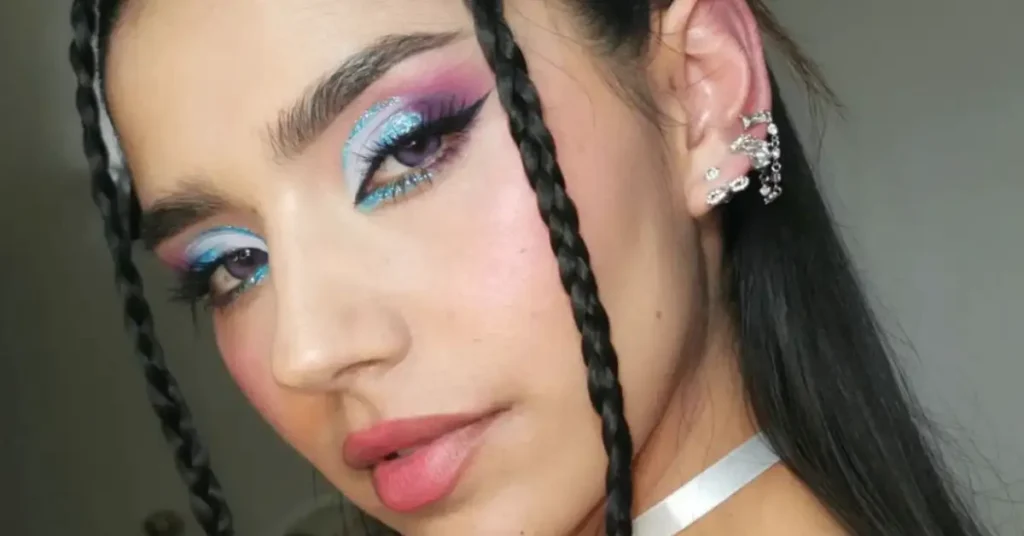 I've recently become fascinated with Douyin Makeup, and I'm excited to share some tips for perfecting this unique makeup trend. This style is popular in China and typically involves shimmery, glittery eyeshadow, cool-toned blush, and blurred lips for a soft, doll-like look. Let's dive into some tips to help you master this captivating makeup trend.
To start, you'll want a good foundation to create a flawless base. Apply your favorite foundation evenly across your face, ensuring it matches your skin tone. It's essential to have a smooth canvas to build your Douyin Makeup look.
Now, it's time to focus on the eyes. Use glittery and shimmery eyeshadows with shades that complement your skin tone. For an even more dramatic effect, blend multiple shades on your eyelids.
Combine this with thin, sharp wings using liquid eyeliner like the NYX Professional Makeup Vivid Matte Liquid Liner in Black or the Epic Ink Waterproof Liquid Eyeliner in Brown for a softer look.
Moving on to blush, don't be afraid to be generous with the application. Focus on cool-toned shades to create the signature Douyin Makeup effect. Sweep the blush from the apples of your cheeks up towards your temples for a natural flush.
Finally, it's time for the lips. The iconic Douyin blurred lip look is the cherry on top. Apply your lip color of choice on the center of your lips, then use a small brush or your finger to gently smudge the color outward. This creates a soft gradient effect that resembles a blooming flower.
Douyin Makeup: The Essentials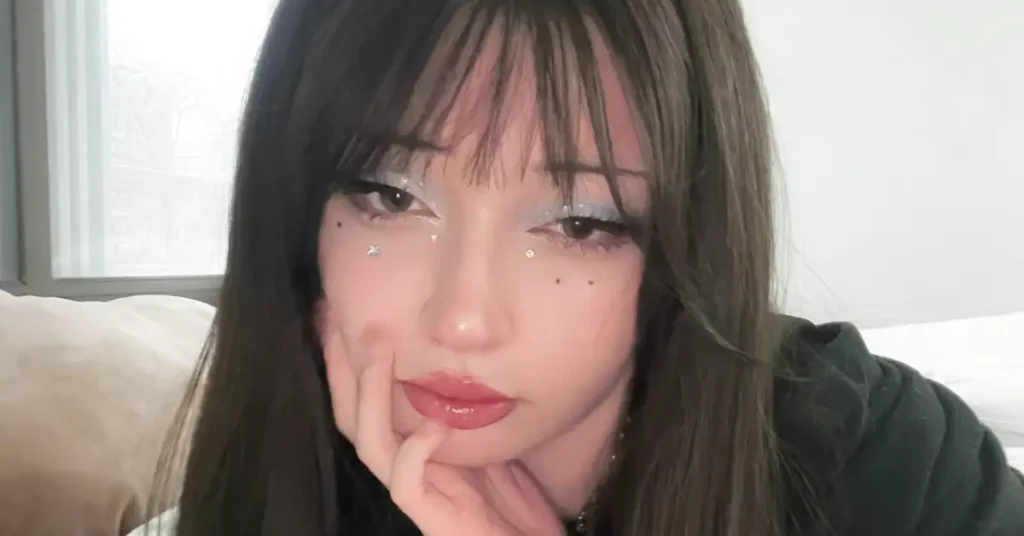 As a makeup enthusiast, I find the world of Douyin Makeup fascinating and captivating. This enchanting and ethereal makeup style, which originated from the Chinese app Douyin (抖音), has quickly gained popularity around the globe due to its doll-like and dreamy features.
Now, let's get down to the essentials needed to achieve the Douyin makeup look. To begin, a sheer foundation is a must, as it sets the perfect base for the rest of the look. Next, focus on your eyes by choosing the right eyeshadows and waterproof mascara. Eyeshadows should be long-lasting, with a mix of neutrals and vibrant colors. Don't be afraid to add some glitter shadows for that extra sparkle!
Lipstick or lip gloss is vital to complete your Douyin makeup look. Opt for shades that complement your skin tone and the rest of your makeup. And let's not forget the essential tools: brushes and sponges for precise application of the products.
Here's a quick table summing up the pros and cons of Douyin makeup:
| Pros ✅ | Cons ❌ |
| --- | --- |
| Unique and captivating style | Might take some time to master |
| Enhances facial features | Can be expensive with the variety of products needed |
| Adaptable to various skin tones and occasions | Requires practice for perfect execution |
In my personal opinion, Douyin makeup is a beautiful and versatile style that's worth trying, even if it might take a while to get the hang of it. With a bit of patience and dedication, anyone can learn to create stunning looks that showcase their personal flair while keeping up with the latest makeup trends. So, let's dive into the world of Douyin makeup and embrace its charm!
FAQ
What is the difference between Douyin makeup and Korean makeup?
Douyin makeup often focuses on achieving a youthful and radiant look for video content, with an emphasis on looking natural and fresh on camera. Korean makeup, on the other hand, is known for its skincare-oriented approach, focusing on achieving flawless skin and using a wider range of colors and styles.
Why is Douyin makeup popular?
Douyin makeup is popular due to its association with viral beauty trends on the Douyin (TikTok) platform. It's known for its youthful and fresh look, which resonates with the younger generation of beauty enthusiasts who are drawn to the platform's short video format and creative makeup techniques.
What age group uses Douyin?
Douyin, the Chinese version of TikTok, is popular among a wide range of age groups, but it's particularly favored by younger users aged 16 to 24. However, it has a diverse user base, including people in their 30s and 40s, who enjoy creating and consuming short-form video content.
How do you pronounce Douyin makeup?
Douyin" is pronounced as "doh-yin." The emphasis is on the first syllable, "doh," which sounds like the English word "dough," and the second syllable, "yin," rhymes with "bin." So, it's "doh-yin makeup.
Is makeup popular in China?
Yes, makeup is popular in China. In recent years, the makeup industry in China has experienced significant growth, driven by the influence of social media, beauty trends, and a growing interest in skincare and cosmetics among Chinese consumers.
If you liked this blog article about the topic: Douyin Makeup, don't forget to leave us a comment down below to tell us about your experience.