Elevate your beauty game with the world's latest sensation – Latte makeup! If you're a fan of warm, natural looks, you're in for a treat. Wondering what this trend is all about? I've got the inside scoop on Latte makeup, from its unique name to why it's the secret to effortlessly chic beauty.
Think about your favorite latte – that creamy, delightful coffee. Well, Latte makeup is just like that, capturing the rich brown and nude tones in a stunning monochrome look that's as irresistible as your morning caffeine fix. The best part? It suits everyone, no matter your skin tone.
Latte Makeup
Remember those times when we used to spend hours blending eyeshadows or layering on products to achieve that perfect glow? Well, those days are gone, because latte makeup is all about minimal effort with maximum results.
This trend focuses on rich brown eyeshadows, glowy bronzed skin, and glossy cocoa lips, creating a polished and radiant look that can easily transition from daytime chic to nighttime glam. So, let's dive into how you can perfect this latte makeup trend and get ready to turn heads wherever you go!
Interested in makeup trends? Check out our article about Korean makeup trends!
The Latte Makeup Phenomenon
So, what is latte makeup exactly? It's all about combining a mix of brown hues, along with tan and golden shades, to bring warmth and dimension to the skin, according to celebrity makeup artist Rebecca Restrepo.
The beauty of this trend is that it doesn't have to be perfect – it's universally flattering and suitable for people of all skill levels.
To master this trend, start with a primer or a light brown shade of eyeshadow all over the lids, then gradually work in darker shades of brown into the creases and outer corners of the eyes.
Be sure to blend everything well to create a seamless look. Don't forget to enhance the rest of your face with tan and golden-toned highlights to achieve that truly warm latte appeal.
Understanding the Latte Palette
Colors and Textures
In the latte palette, the main focus is on shades of browns, deep chocolate, bronze, and nude hues. These colors create a perfect harmony, blending into a balanced and captivating monochromatic look. The beauty of the latte makeup trend lies in its versatility, making it easy to achieve a stunning and radiant appearance with minimal effort.
The key to mastering the latte makeup look is combining a mix of brown hues, along with tan and golden shades to bring warmth and dimension to the skin. An added bonus? It's universally flattering! You don't have to be perfect in terms of execution, making it an approachable and fun style to experiment with.
To achieve the bronzed, glowy look, you can play with different textures, such as matte eyeshadows, cream-based blushes, and shimmer products. This allows you to create depth and make the latte tones stand out, all while maintaining that natural and effortless feel.
Application Techniques
Let's dive into the techniques and products needed to create both a natural and dramatic latte makeup look!
For a Natural Look
When aiming for a natural latte makeup look, our goal is to enhance our features using a selection of soft browns and nude tones. The key is to keep it subtle and radiant.
Products needed
Foundation or tinted moisturizer
Nude eyeshadow palette with a mix of matte and shimmer shades
Brown eyeliner (opt for a pencil for easier blending)
Mascara
Bronzer
Nude-colored blush
Glossy nude or light brown lip color
Step-by-Step Guide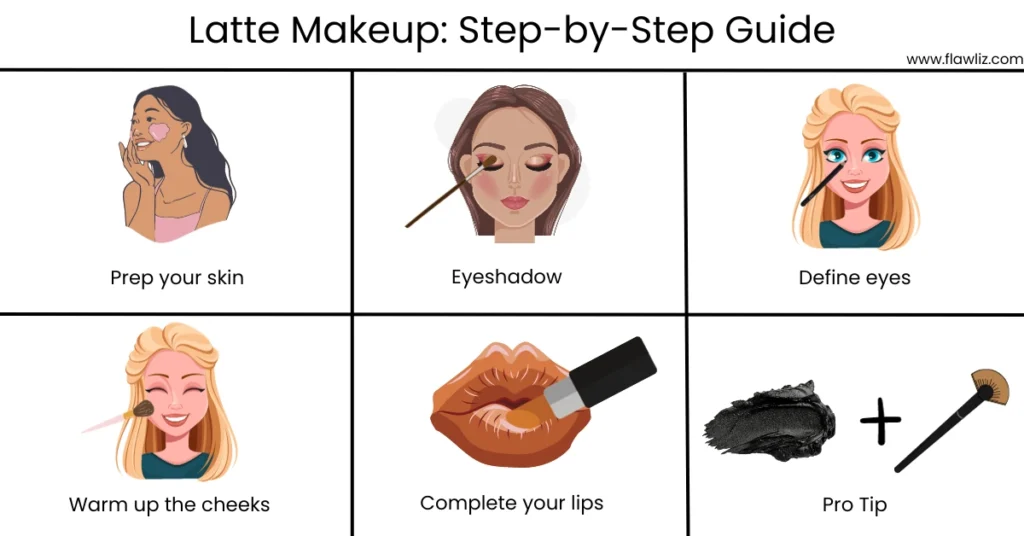 Prepare your skin: Make sure your skin is clean, moisturized, and primed before applying foundation or tinted moisturizer. For that extra glow, mix in a liquid highlighter or hydrating serum.
Apply eyeshadows: Go for lighter colors on the lid and crease, and add a touch of shimmer on the inner corner and brow bone.
Define eyes: Apply the brown eyeliner close to the lash line, and blend gently for a soft, smudgy look. Finish with a coat of mascara.
Warm up the cheeks: Apply bronzer to the hollows of your cheeks, temples, and jawline for subtle contouring. Follow with a light application of nude-colored blush.
Complete your lips: Finish off with a glossy nude or light brown lip color to complement your latte makeup look.
Pro Tip: Layer a cream eyeshadow underneath the powder eyeshadow to enhance the longevity of your natural look.
Dramatic Eye Makeup
For a more intense latte makeup look, we'll focus on creating depth and drama with a smokey eye effect.
Products needed
The same initial list of products for a natural look
A darker brown eyeshadow (preferably matte)
Black eyeliner (gel, liquid, or pencil)
False lashes or a volumizing mascara (optional)
Step-by-Step Guide
Follow the first three steps from the "natural look" guide, but use darker shades of eyeshadow for added depth.
Intensify the liner: Swap the brown eyeliner for black, and create a more defined line or wing along the upper lash line. Tightline the upper waterline for extra intensity. Don't forget to blend the edges for a smokey effect.
Smoke out the lower lash line: To balance out the look, apply the darker brown eyeshadow under the lower lash line, blending it softly. Add some black eyeliner for added definition, if desired.
Finish the eyes: Complete the dramatic eye look with false lashes or a few coats of volumizing mascara.
With these latte makeup application techniques, you can easily create a warm and cozy look for any occasion. Enjoy experimenting with this beautiful trend!
Skin Complimenting
Latte makeup is a refreshing approach that adds dimension and warmth to the skin without overdoing it. Let's dive into how to achieve this look for different skin tones.
For Fair Skin Tone
For those with fair skin, it's essential to choose brown, golden, and tan shades that don't overpower your complexion. I suggest using lighter-hued bronzers and eyeshadows with subtle shimmer or sheen to bring warmth without overwhelming your skin.
Remember: Blend everything well to create that natural latte makeup glow.
For Medium Skin Tone
For those with a medium skin tone, the latte makeup trend can be especially flattering. Use mid-toned browns, golds, and tans in my makeup routine to add depth and warmth to your complexion. The key is to use a mix of matte and shimmer finishes to keep things interesting and maintain the dimension.
For Dark Skin Tone
For those with a darker skin tone, latte makeup is still a fantastic choice. I recommend using rich browns, golds, and tans in your makeup to create the lovely warm tones that characterize this trend.
Opt for bronzers, eyeshadows, and foundations with a satin or shimmer finish to keep your complexion radiant and dimensional.
Caring for Your Latte Makeup
First and foremost, a healthy, glowy base is essential for this trend. Hydrating your skin daily can not only prolong the wear of your makeup but also enhance the overall appearance.
My Advice: Use a moisturizer specifically designed for your skin type, and apply it before your makeup to ensure a smooth and even canvas.
Additionally, investing in quality makeup brushes can make a significant difference in the application and blending process. For latte makeup, the key is to seamlessly blend those coffee-inspired shades, creating an effortlessly natural look.
Cleaning your brushes on a regular basis also helps maintain their performance and keep them in great condition for longer.
Another effective tip to consider involves setting makeup with a gentle mist of setting spray. This step not only secures the latte-inspired look but also imparts a dewy, complexion-enhancing finish. Selecting a setting spray tailored to individual concerns, such as oil control, hydration, or pore minimization, allows for a personalized touch.
Popular Latte Makeup Brands
Here is a list of the top 3 Makeup brands popular for latte makeup:
Fenty Beauty: Known for its diverse shade range and high-quality products, its Classics line beautifully incorporates the latte makeup trend. Their foundation and bronzers can help you get that warm, bronzy look we all crave during the summer months.
Merit: They offer a lightweight foundation and concealer called The Minimalist Perfecting Complexion that blends seamlessly into the skin while providing excellent coverage. The creamy texture effortlessly builds for a flawless finish, making it ideal for achieving that latte makeup look.
Hailey Bieber: With her incredible sense of style and impressive following, she's set a beautiful example for those of us who want to embrace the bronzed goddess appearance.
Latte Makeup Hacks and Tips
Firstly, start with a light, glowy foundation to create an even base for your latte makeup. A product like the L'Oréal Paris True Match Super Blendable Foundation can work wonders for achieving that glowing look.
Next up is bronzer. Work your favorite bronzer into the hollows of your cheeks, along your hairline, and around your jawline.
Pro Tip: Use a matte bronzer for a natural finish. For subtler warmth, opt for a shade that's not too dark or orange for your skin tone.
A highlighter is essential for a luminous latte look. Gently apply a golden-toned highlighter on the high points of your face, such as your cheekbones, brow bone, and the bridge of your nose. Be sure not to overdo it; less is more in this effortless look.
For the eyes, stick to neutrals and earthy tones. You can create beautiful, blended eye looks with beige, caramel, brown, and taupe. Emphasize the crease, and don't forget to add a touch of shimmer on the lids for added dimension.
Lastly, the lips should keep with the theme. Opt for nude shades like the color of coffee with cream, or a slightly deeper brown for a bolder look. Finish it off with a touch of gloss to give your lips that latte-inspired sheen.
FAQ
What is the Latte Makeup Trend?
The Latte Makeup Trend is a beauty style inspired by the warm and inviting shades of your favorite coffee latte. It typically involves using makeup to create a cozy, earthy, and neutral look.
How can I achieve the Latte Makeup Trend?
To achieve the Latte Makeup Trend, focus on earthy tones like warm browns, soft beiges, and creamy cappuccino colors for your eyeshadow, lip, and blush choices. These shades mimic the inviting hues of a latte.
What occasions are ideal for Latte Makeup?
The Latte Makeup Trend is versatile and suitable for various occasions. It's perfect for a natural, everyday look, work settings, and brunch dates. However, it can also be elevated for evening events.
Can Latte Makeup be combined with other makeup trends?
Absolutely! Latte Makeup can be paired with various trends, such as natural or nude makeup, monochromatic looks, or even minimalistic styles, offering versatility in coordinating with your outfit and style.
---
If you liked this blog article about the topic: Latte Makeup Trend, don't forget to leave us a comment down below to tell us about your experience.